Custom Work
Rock hunters often have favorite rocks that they bring to us for custom polishing, cutting, beadwork, and wire wrapping. If you have an idea, wild or mild, that you would like us to implement, we are up to most any challenge. We can custom cut your stone or you can choose from one of ours to create your distinctive jewelry. Enjoy this gallery of some stone and wire jewelry we have created.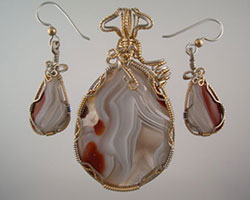 Bonnie's Agate Suite
The finest Lake Superior Agate I ever personally found, this cabochon and earring set came from a flawless Laker. The best option for this Agate was to create a beautiful pendant set for Bonnie, a custom gift she still appreciates.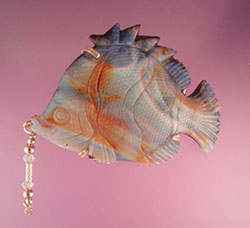 Blue Gill with Lure
A carved opal Bluegill pendant was designed and created for our friend Debbie. She loves the whimsy of the fishing lure in its mouth!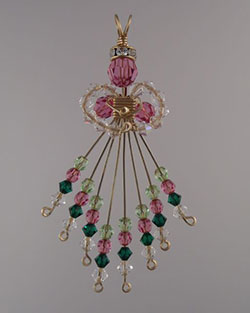 Christmas Angel
Around the holidays I am inspired to create angels using Swarovski crystals. This is one example.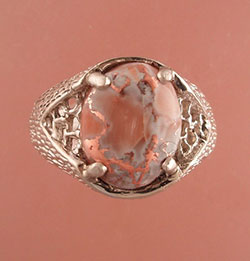 Copper Datolite Ring
Sometimes people want a stone replaced in a favorite ring. In this case the customer wanted something unique from the Upper Peninsula. This Copper Datolite cabochon looks amazing in this white gold ring.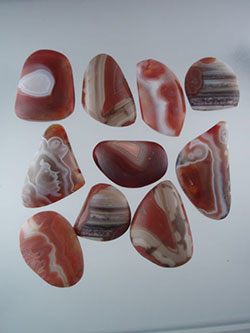 Custom Laker Cabs
Often people bring me Lake Superior Agates and other rough gemstones that they have found. Custom cutting and/or wire wrapping is one of our special services.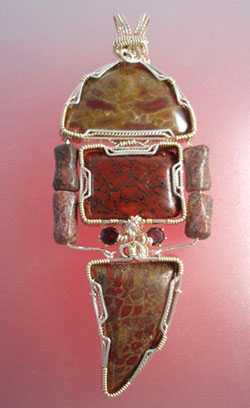 Don's Dinosaur Bone
Bonnie told me I needed to have a distinctive pendant to wear myself. I custom cut and wire wrapped these pieces of Dinosaur Bone to create an interesting piece. It is a conversation starter!
Dragonfly Pendant
Jeanne, one of our long-time customers suggested I make a Dragonfly pendant using Greenstones. I used Greenstone beads to make this "flighty" pendant.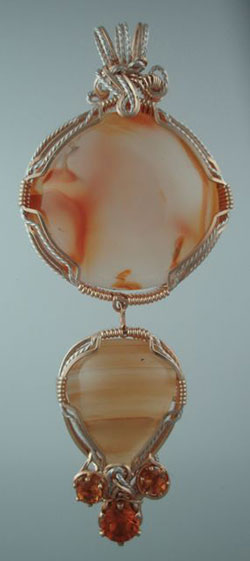 Mackinen Wedding Jewels
My friend Steve sent a pair of agates and requested I make a special pendant to be worn by his bride on his upcoming wedding. The bride and groom were very happy with the result.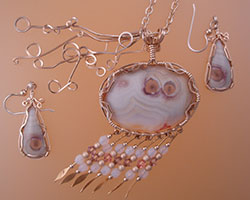 Suite of Ghostbuster
Using a single Lake Superior Agate, I created this eclectic set for Debbie.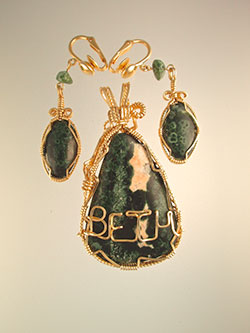 Beth's Giant Greenstone Pendant
Made from one of the largest Greenstones ever found, Beth's pendant and earrings are real stunners. As an added personal touch, I added her name to the back. The daughters and granddaughters know they can't have this one!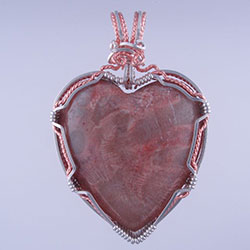 Pink Petoskey Heart
Pink Petoskey stones are one of our specialties. This heart pendant was created for our daughter Holly.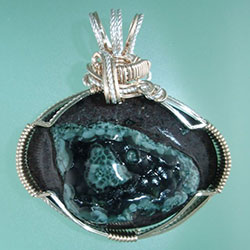 Shirley's Greenstone
Shirley is one of our discriminating customers and has a great collection of interesting gemstone pieces. This custom pendant was created just for her.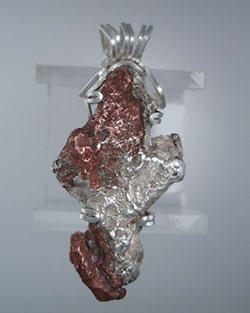 Shirley's Half Breed Pendant
Silver/Copper Half Breeds are sometimes found in the copper mine tailings piles of the Keweenaw Peninsula. This unique Half Breed Pendant was custom made for Shirley.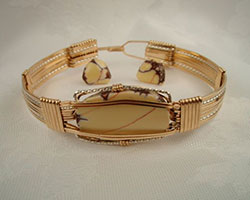 Sue's Yellow Datolite Bracelet
Sue brought me some exceedingly rare and lovely Keweenaw Point Yellow Datolite and requested a custom made bracelet and earrings. This turned out to be a wonderful set.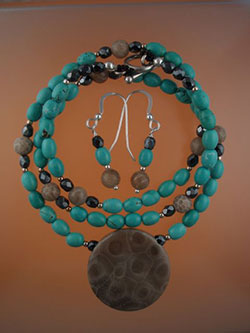 Turquoise and Petoskey Necklace/Earrings
This necklace/pendant/bracelet set is one of Bonnie's special pieces. She can make custom beaded pieces for special events.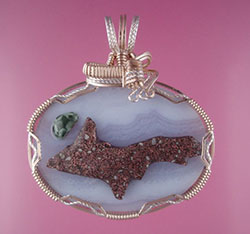 Yooper special
I created this piece out of Blue Lace Agate, Firebrick, and Isle Royale Greenstones for a Michigan Tech alumnus.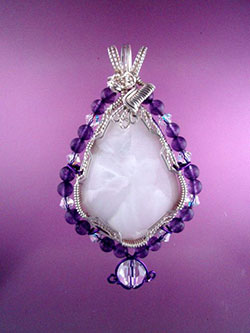 White Victoria Stone and Amethyst Pendant
This was a custom made gift for my favorite model to wear (Bonnie). She wanted to wear something sparkly, but different at Christmas time and had a white/silver/purple jacket I had to match.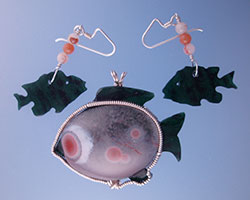 I made this school of fish from Jade and Agate for Debbie.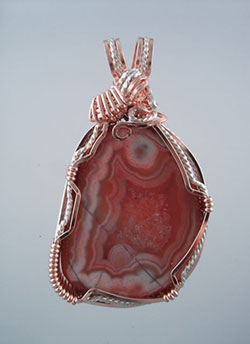 Nancy Laker 1
Lake Superior Agate Pendant created for our long-time customer Nancy. She finds the Lakers and I cut and wrap them for her. I laughed at the funny face it this Lake Superior Agate.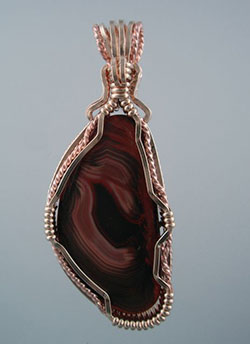 Nancy Laker 2
Nancy's Lake Superior Paint Agate was the basis for this piece.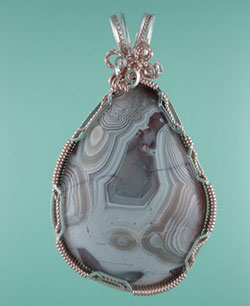 Nancy Agate 3
A larger Lake Superior Agate found by Nancy's husband. Monotone Lakers are uncommon, and this one is a beauty.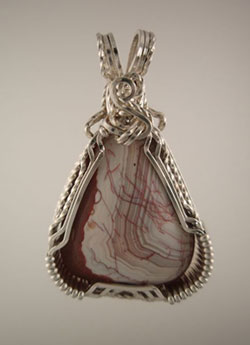 Elizabeth Agate 1
Nancy's daughter Elizabeth found a Lake Superior Ledge Agate, and she now wears it as this beautiful pendant.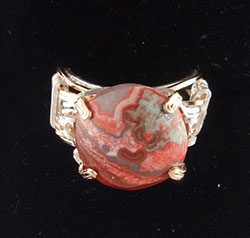 Nancy's Ring
A colorful Lake Superior Agate found by Nancy turned out to make a lovely wire wrapped ring.